The Fourth Cohort of Shaharit's 120 Program for Rising Multicultural National Political Leadership recently returned from their group trip to Morocco.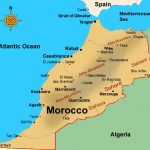 Over the course of eight days, they crisscrossed the country, from modern Casablanca to the ancient market cities of Fes and Marrakech, and from the Atlas Mountains to the beach town of Essaouira, exploring Jewish-Muslim/Arab and majority-minority relations, and learning and experiencing the complexities and tensions of religion and state, tradition and progress, and government and civil society from a uniquely Middle Eastern perspective.
Along the way, they met with politicians, Muslim and Jewish religious leaders, Journalists, filmmakers, cultural leaders, Activists for Berber and Women's Rights, and representatives from a variety of civil society organizations, including The Moroccan Association for Development and Public Diplomacy, Mimouna – an organization of young Muslim Moroccans who work to preserve the country's Jewish heritage, and Let's Move, which supports the cultural development and empowerment of Morocco's indigenous Berber population. Highlights of the trip included a visit to the old Jewish Quarter (Mellah) in Marrakech, whose central synagogue was renovated and rededicated last year by the King of Morocco, and visits by several participants to the homes and gravesites of their relatives.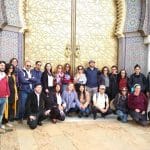 120 Participants and Staff Members in Marrakech
From the 120:
"When I left for Morocco, I knew that I was about to undergo a life-changing experience. Afterall, I went with a group of that's trying to create an alternative future for Israeli politics of common good and multiculturalism, something that is so badly missing in our politics today. I went to Morocco to experience from up close the possibility that there's a different model for shared society. That Arabs don't hate Jews. That it's possible to imagine a different Middle East, to imagine peace. I'm optimistic, and I'm going to insist on realizing the common good future for society… I saw this reality with my very own eyes, in Morocco, where East and West, Islam and Judaism, and splendor and simplicity intertwine, and everything is lined with arches and date trees." Anat Nir, Tel Aviv
"We had eight wonderful days in Morocco with an amazing group of people from every possible identity in Israel – Ashkenazi, Mizrahi, Religious, Secular, Traditional, Ultra-orthodox, Right-wing, Left-wing, LGBT, Settler, and Arab. Our goal is to get to know the other groups in society and advance common good, showing that it is indeed possible for Israel to include everyone. In Morocco, you learn not to label anyone – that behind the identity of settler, right-winger, or Haredi there is a person with a fascinating life story, and that despite the big differences between us, there are many more things that we have in common. In Morocco, you learn to respect the beliefs of the other and to know that he or she will respect yours, you begin to dream that this is possible in Israel – to feel sympathy for a settler and sadness for her brother who fell in war, to feel the pain of the Mizrahi Jews, to learn about Shabbat, to believe that this is possible in Israel – a shared society, equality for Jews and Arabs in Israel." Wesam Ganayem, Sakhnin
WHY MOROCCO?
Comparing Israel with Morocco is illuminating. The country features a vibrant civil society increasingly demanding democratic reforms, serves as a complicated model for a shared society with its Berber minority, and functions as a parallel example for issues of religion and state and tradition vs. progress that are so predominant to the contemporary Israeli political reality. Nearly one million Israelis – around 1 in every 7 Israeli Jews – trace their ancestry to Morocco, and several of the participants each year visit the graves of their grandparents with the program's participants in one of the most moving parts of the entire 120 cohort year; decades after nearly the entirety of the country's Jewish population left the country, its millennia-long Jewish heritage is conserved by their former Muslim neighbors in an effort overseen by the King of Morocco himself. Many Israeli leadership programs look to the West as a model for Israeli society, but we believe that, in the spirit of creating a shared future for all Israelis, it is important for us to send the message that we can and we should learn from the Middle East, a point all the more salient given that the majority of Israelis (both Jewish and Arab) can trace their own familial roots to the Middle East. And, of course, the stunning vistas and long journeys between its ancient cities provide ample opportunity for participants to share their stories with one another and to immerse themselves in a context both familiar and foreign to their own.