In the lead up to the 2018 Municipal Elections, scheduled for this October, Shaharit is harnessing the increasing attention being paid to the local arena, providing a variety of opportunities for organizations, social initiatives, and potential city council candidates to learn how to advance a common good agenda in their town or city.
Some highlights of this work:
Training Courses for 60 Potential City Council Candidates in the Galilee and the Negev
Our staff receive almost daily requests for advice and help from activists and organizations from around Israel – from Kiryat Shmona on the Lebanese border to Eilat on the Red Sea, and just about everywhere in between. In January, we opened two courses training potential city council candidates – one in Tivon in the Galilee, and a second in Be'er Sheva. Each course meets biweekly, with outside lecturers sharing practical tools and tips and ideas on how to bring different communities together for change. More than 60 potential candidates from 30 localities, including Tel Aviv, Dimona, Ofakim, Be'er Sheva, Rahat, Sakhnin, Kseife, Karmiel, Nahariya, Rehovot, Migdal Haemek, and Afula are attending the courses, and we are proud to say that more than one third of course participants are Arab Citizens of Israel.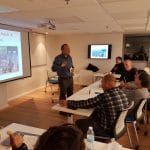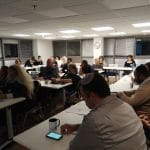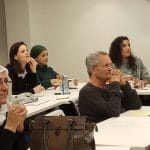 Groundbreaking Course in the Haredi Ultra-orthodox Community 
In addition to our two regional courses, we opened a special course, the first of its kind in Israel, training 20 Haredi city council candidates from a dozen municipalities, including Jerusalem, Yavne, Bnei Brak, Ashkelon, and Petah Tikvah in Shaharit's common good value system and toolbox. The course is being led by Liat Malka, the first Haredi woman to sit in a municipal religious council in Israel.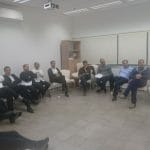 Community Organizing School 
It is in certain ways shocking, but Shaharit's work on the ground is one of the very few successful attempts to address the divide between different sociological groups that is threatening democracies the world-over. When you step into a Shaharit-led community organization, you are greeted by a social, cultural and political diversity that is rarely seen. Based on the success of our organizing work in Jerusalem, Tirat Carmel, Ashdod, and Rehovot over the last two years, our community organizers have developed a series of trainings that provide practical implementations of our rich relationship-based organizing toolbox. We are currently working with the Alumni Network of the Rothschild Foundation's programs for outstanding youth in the periphery and the Women's Empowerment Network on seminars, and will be working with a variety of additional partners and initiatives in the coming months.
New Partnerships and Collaborations for Common Good Policies 
In the Israeli local politics today, there are a number specific issues that cause division and opposition along class, religious, and ethnic lines, promoting a sectorial, zero-sum politics. To this end, we are collaborating with a variety of organizations that promote policy solutions in the common good spirit, creating case studies and recommendations for practical implementation strategies and offering them to the public at large. Thus far, we have created partnerships with the transit advocacy organization 15 Minutes (on local public transportation), Merhav – the Movement for Israeli Urbanism (on housing and urban planning), and the moderate Religious Zionist movement Ne'emanei Torah v'Avodah (on religion in the public sphere); partnerships with organizations working on education, local identity, and sustainable economics are in the works.
100 Days of Common Good: Public Conference Scheduled for July  
Our community organizing and local community work will be put on display this July at our public conference, 100 Days of Common Good, with more than 200 local activists and social entrepreneurs, and dozens of partner initiatives from around the country expected to attend. Watch our website for more details about the conference as it approaches!