IDEAS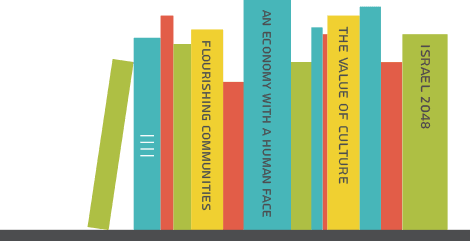 SHAHARIT
Shaharit is a thinktank, leadership incubator, and community organizing hub that promotes a new take on Israeli liberalism and its role in Israeli society.
We bring together Israelis from diverse ethnic, religious and sociological backgrounds to create a different kind of Israeli politics: what we call a 

politics of the common good

, which begins with strong relationships and building trust, and then reaches out to other stakeholders with humility, a genuine desire to listen, and a firm belief that dialogue must transform everyone in the room.
We run dozens of programs, ranging from leadership development in Israeli Arab towns, to cutting-edge surveys of Ultra-Orthodox Jews, to community organizing in local municipalities, to our flagship "120" program that cultivates the next generation of Israeli national leaders.
ABOUT
Shaharit began work in the summer of 2011 to present fresh thinking on Israeli society and to offer an alternative to the current quagmire—what we call a politics of the common good. We seek to forge a politics that unites, and breaks out of the tired dichotomies that for too long have defined the Israeli politic: "a Jewish state" versus "a state of all its citizens," "religion" and "tradition" as opposed to "liberalism," the "security camp" opposite the "peace camp," and "market economics" versus the "welfare state." Our task is to articulate a new political language, to create new social networks, and to encourage new initiatives, for the benefit of all of Israel's communities, and for the benefit of Israeli society as a whole.