In memory of Moshe and Eliad Ohayon z"l
Moshe Ohayon and his son Eliad were murdered in Ofakim in the first hours of the Simchat Torah massacre, as they set out to protect their community from Hamas.
Moshe Ohayon, Chair of the Board of the Shaharit Institute, and his son Eliad bravely left their home, on Saturday morning, October 7th 2023, at the beginning of the Hamas assault on Israel in order to protect their town of Ofakim. They were missing for just over 24 hours, until Sunday afternoon, when it was announced that they had been murdered at the hands of Hamas terrorists.
For those who knew Moshe, it was no surprise that he didn't hesitate for a moment, and that he jumped instinctively out the door to the task at hand. That's how he taught us one should live their life, and that's how he was in his final moment. His larger-than-life presence makes his loss feel that much more immense.
Moshe was a fellow-traveler and a true friend, both super-smart and uniquely wise, with a smile that won your heart and with a bear hug that made you feel the love.
In addition to being the Chair of the Shaharit Board of Directors, Moshe was the CEO of the 929 Project and a leading social activist in Ofakim, where he lived with his family for the last two decades.
His son Eliad was a special kid, who frequently volunteered with social organizations and generously donated his time to his community. When the attack began, he didn't think twice before joining his father. "I have learned from all of my students, and from Eliad most of all," said his high school principal.
May their memories be a blessing.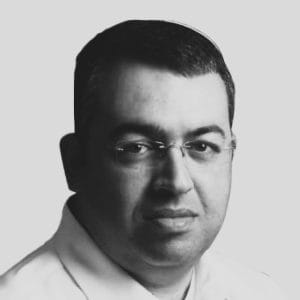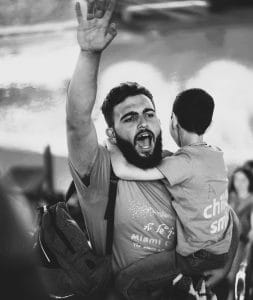 Dr. Eilon Schwartz, the Director of the Shaharit Institute, About Moshe and Eliad Ohayon
On Thursday, October 5th 2023, evening I participated in a very special event down south in the town of Ofakim. I was invited by Moshe Ohayon, Chairman of the Board of Shaharit, to teach in his sukkah at an event entitled "Learning and Listening TOGETHER."  Two people with different social, cultural, religious and/or political perspectives teach together.  It seems there is a tradition, that honestly I had never heard of, studying Torah all night long on the last night of Sukkot, just like Tikkun Leil Shavuot.  Moshe was radiant.  There were some 50-60 people there, and Moshe was filled with joy at having some of his closest colleagues and friends drive down to Ofakim to join with him and his Ofakim community.  I got the midnight to 1:00 am slot, paired with Rabbi Avi Gieser, one of the founders of the Tzohar rabbinical organization that has tried to bridge the gap between religious and secular Jews.  We talked about the dialectical tension between wandering and permanence, and the moral and ethical importance of uncertainty and vulnerability that Sukkot embodies. The Tikkun lasted until 4 a.m. but I chose to head home at 2:00.  Like the perfect host, the next morning Moshe sent me a note complimenting me, telling me that I had won over some converts to Shaharit at the talk.  I, in turn, reprimanded him for not living up to his side of the bargain, which was to finish the planning of a seminar down south for the inaugural cohort of our intellectual leadership program that he was to help run.  He promised he would have it for me Saturday evening after Shabbat.
Saturday morning, which was the holiday of Simchat Torah in Israel, Moshe and his son Eliad were murdered.  He had heard sounds of gunshots in the neighborhood in the morning, and ran out of the house with Eliad, pistol in hand.  Hearing the story we all smiled through our tears and said, "That was Moshe, first out the door.  Always in front."
But we did not know Moshe and his son had been killed until a few hours ago, on Sunday afternoon.  As reports multiplied on Shabbat of the killing fields that the area around Gaza had become, we all became worried about Moshe's wellbeing, because we knew he must be out in the thick of it, seeing what he could do.  It was increasingly clear that security forces were absent, and that for so many hours residents had no one to rely on but themselves. Moshe was religious, and so trying to discover his whereabouts only began in earnest on Saturday evening after Shabbat ended.  His WhatsApp had last been opened at 7:15 on Saturday morning.  We indeed found out that he and his son had not been seen since they left the house, and I announced to the Shaharit staff and board the situation.  Moments later, a ray of hope, as a message was passed along that they had been seen, alive and well, but that they had their phones turned off to prevent the enemy from identifying their whereabouts.  Relief.
By morning it became clear that the message was fake news, and it was confirmed that they were missing.  Either they were taken into Gaza or they had been killed.  As the hours moved forward, and more and more bodies were identified, my hope was that what I considered the better scenario, that they were taken into captivity, was the more likely one.  But as it turned out, late Sunday afternoon, their bodies were found, lying not far from where they first left the house.
One story.  There are hundreds of them.  Thousands.  It's a horror movie.  Everyone, everyone is at the most one degree of separation from a nightmarish tragedy.  And as we all know, there is so much more ahead of us.
There will be a reckoning here.  No one thing can explain what is happening and why.  But that sinking feeling in my stomach, and I know in Moshe's stomach, that the divisiveness of these times sent a clear signal that we are weak and vulnerable, cannot escape me.  This is not the time to assign blame, there will be so much of it to go around, as the most basic role of government, to give safety to its citizens, was shockingly abandoned. But driving down to Ofakim, sitting in Moshe's sukkah with a wide mix of Israeli society who spent the night soul-searching what had become of us, and whether we can heal, was a fitting last tribute to Moshe that I will take with me forever.  And maybe, maybe, now that we truly have approached the precipice, we can take a step back, knowing that our futures are indeed entangled with one another, and dependent on one another.  Moshe surely believed that, as do I.
May their memory be a blessing.